News
5 Reasons for the Jersey Mount and how the Jersey Mount is revolutionizing advertising in fan caves
by Nyden Kovatchev on Jan 06, 2021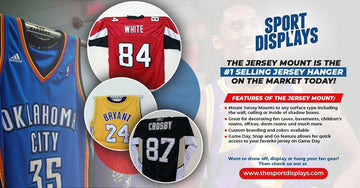 When creating the Jersey Mount our focus was always 5 things.
1) We wanted this product to be affordable for sport fans with large jersey collections who wouldn't be able to pay hundreds of dollars for display cases.
2) We wanted fans to be able to quickly snap their favorite jersey on and off the wall on Game Day or be able to interchange them for another jersey depending on what sporting season was on or what favorite team was still playing. Having a collection of over 35 jerseys myself, I always wanted the ability to interchange my jerseys depending on the season or playoff teams remaining.
3) Installation: The Jersey Mount can be mounted to absolutely any surface type, including glass, cement, doors, the ceiling, inside of display cases and much more. The Jersey Mount was made as a lightweight product that could be installed using two screws or 3M command strips. This was an idea given to us at a tradeshow when a few female buyers came to our booth and shared with us that they hated having nails and screws in their walls. This introduced us to 3M Command strips and now all surfaces allow for the Jersey Mount to be installed.
4) The product was created for jerseys, however early on we realized that this product can be used to hang, display or show off so much more including t-shirts, sweaters, jackets, uniforms (police, fire, military) team banners, flags, kids medals and so much more. Over the years one of our favorite things to learn about is all the different ways our product has been used. Some fun examples have be: towels and bathing suits while camping (they attached the product to the RV! kids costumes, Triathlon gear, Christmas lights from the ceiling and even curtain
5) Lastly and most importantly our Jersey Hanger was created with the mindset of being customized with different colors and custom branding.
When creating the product we always knew that sport advertising would become a massive business in sports merchandise. Adding sponsored logos to jerseys, helmets, equipment etc was always the next logical step. That being said, we wanted to make sure that our product would have space for possible custom options such as logos, images, slogans, websites, signatures, stats and of course sponsored options for exclusive in house or in fan cave advertising. The Jersey Mount was designed to have a 5 inch by 1.5 inch space on its bars to allow for advertising, licensed team logos or anything else for that matter. This small but effective space allows for a very unique opportunity to advertise in offices, dorm rooms, fan caves, basements, garages or anywhere else that a jersey may be displayed. Advertising and sports is the way of the future and expanding advertising niches such as the Jersey Mount may make for a very interesting opportunity.