News
Beyond the Game: Enhance Your Home With Sports Jersey Hanger Frames
by Epsilon Access on Jul 20, 2023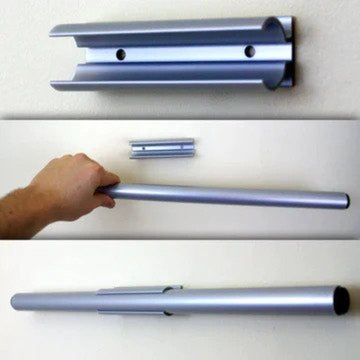 Are you a sports enthusiast looking for the perfect way to display your treasured fan gear? Connect with "The Sports Display" and their innovative Jersey Mount Displays product. Taking sports memorabilia displays to a whole new level, the Jersey Mount offers an affordable, easy-to-install, and professional sports jersey hanger frame solution for showcasing your favorite jerseys, apparel, banners, flags, pennants, uniforms, and more.

In this write-up, we explore how "The Sports Display's" Jersey Mount can enhance your home, allowing you to celebrate your passion for sports beyond the game.


The Versatility of the Jersey Mount: At "The Sports Display," their Jersey Mounts offer unparalleled versatility. These unique displays can be used to showcase jerseys and a wide range of sports-related items, making them a must-have for any sports enthusiast. From the jerseys of your favorite players to vintage pennants, championship banners, and even team uniforms, the Jersey Mount can accommodate it all.
Easy Installation with 3M Command Strips: One of the standout features of the Jersey Mount is its user-friendly installation process. The product comes equipped with 3M Command Strips, making mounting on any surface type effortless. No need to drill holes or worry about causing damage to your walls – simply stick it on, and you're good to go. The secure attachment ensures your cherished memorabilia stays in place, even during active game-day celebrations.
Customization Options: "The Sports Display" understands that sports fans are passionate about their teams and their memorabilia. That's why the Jersey Mounts are highly customizable, allowing you to create a truly one-of-a-kind display. Choose from various Jersey Rod and Jersey Clip colors that perfectly match your favorite team's colors. Take it a step further by adding logos, images, slogans, player stats, signatures, or any other personalized elements to make your display uniquely yours.
Versatility in Display Options: "The Sports Display's" Jersey Mounts offer various display options to suit your preferences and available space. You can mount them independently, creating a striking focal point on your walls. Place the Jersey Mount inside sports jersey shadowboxe for a more sophisticated look, adding depth and dimension to your display. You can even get creative and attach the Jersey Mount to the ceiling, making a dynamic and gravity-defying exhibit.
A Showcase for All Ages: The Jersey Mount isn't just for adult sports fans; it's perfect for sports enthusiasts of all ages. Whether you're a die-hard football fan, a devoted soccer supporter, or a young basketball enthusiast, the Jersey Mount offers a professional and fun way to display your fan gear. Parents can use it to showcase their kids' sports uniforms, fostering a sense of pride and accomplishment in their athletic achievements.
Preserving and Celebrating Memories: Every sports jersey and memorabilia has a story to tell. With "The Sports Display's" Jersey Mount, you can preserve those precious memories and celebrate your favorite sports moments for years. These displays offer a tangible connection to the games, players, and teams you hold dear, adding a touch of nostalgia and passion to your living space.
Get Personalized Sports Jersey Hanger Frames With The Sports Display!
If you're a sports fan looking to elevate your home decor with a touch of athletic enthusiasm, "
The Sports Displays
" Jersey Mount is the ultimate solution. With its affordability, easy installation, and endless customization options, the Jersey Mount is the most adaptable sports jersey shadowbox display system on the market today. Showcase your favorite fan gear with pride, and let your passion for sports go beyond the game.
Celebrate the moments that define your love for the sport with a display that truly reflects your unwavering team spirit and dedication.