News
Elevate Your Fan Cave with Exclusive Black Friday Deals on Sport Displays Jersey Mount Bundle Packs! 🏀🏈⚽
by Nyden Kovatchev on Nov 15, 2023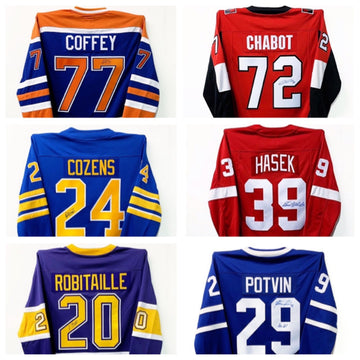 Elevate Your Fan Cave with Exclusive Black Friday Deals on Sport Displays Jersey Mount Bundle Packs! 🏀🏈⚽
Introduction: Welcome to the ultimate Black Friday extravaganza at Sport Displays! Transform your fan cave into a shrine of victories with our exclusive Jersey Mount Bundle Packs. This Black Friday, we're offering unbeatable deals that every sports enthusiast and collector can't resist.
Why Choose Sport Displays? At Sport Displays, we understand the passion you have for your favorite teams. Our Jersey Mounts are not just mounts; they're a celebration of your team spirit. Crafted with precision and designed for durability, our mounts ensure your cherished jerseys are displayed with pride.
Exclusive Black Friday Bundles:
Champion's Choice 3 Pack Bundle:

Showcase your winning moments with our Champion's Choice Bundle.
Includes three premium Jersey Mounts! Act fast to secure this championship deal.

Ultimate Fan Pack:

Elevate your fan cave to new heights with our Ultimate Fan Pack.
Buy1Get150%Off Deal!
Limited-time offer—make it yours this Black Friday.

Collector's Dream Bundle:

Calling all jersey collectors! Don't miss our Collector's Dream Bundle.
10 Pack Bundle for serious collectors
Limited edition—exclusively available this Black Friday weekend.
Why Shop on Black Friday?
Savings Galore: Enjoy massive discounts on our top-tier Jersey Mounts.
Limited Editions: Grab exclusive bundles that won't be available after Black Friday.
Free Shipping: All bundles come with free shipping for Black Friday orders.
How to Redeem Your Black Friday Deal:
Visit our Shopify store during the Black Friday weekend.
Explore the exclusive Jersey Mount Bundle Packs.
Add your favorite bundle to the cart.
Use code dragonsden at checkout for an extra 10% off and Free Shipping!
Act Fast - Limited Stock! Our Black Friday deals are in high demand, and the stock won't last long. Don't miss your chance to score big on the best Jersey Mounts in the game. Act fast, shop smart, and let your fan cave shine with Sport Displays.
Conclusion: This Black Friday, make every jersey count. Sport Displays brings you unparalleled deals on Jersey Mount Bundle Packs. Elevate your fan cave, honor your teams, and seize the savings. Don't just collect jerseys; showcase them with pride!