News
How to decorate your office if you are a sports fan
by Nyden Kovatchev on May 09, 2023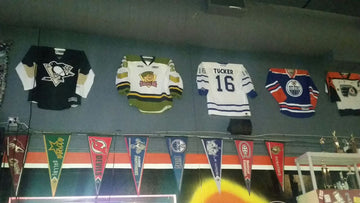 If you're a sports fan and want to decorate your office accordingly, here are some ideas that you may find helpful:
Display sports memorabilia: Show off your favorite team's gear by displaying jerseys, hats, and other items that you've collected over the years. If you do have a jersey that you need displayed, definitely check out the Dragon's Den favorite sport product the Jersey Mount from Sport Displays, www.thesportdisplays.com.  The Jersey Mount is extremely easy to install as you can mount it to any surface type using 3M Command strips! That's right now screws or nails necessary! Jersey Mounts, look incredible when mounted to your wall and really make your favorite jersey the show stopper.  Also, if you are going to the game or are taking a client to the game, the Jersey Mount has a Game Day Feature which allows for quick access to your favorite jersey on game day! Simply snap it off of the wall and you are ready to go.  Check out the Jersey Mount today at www.thesportdisplays.com

Incorporate team colors: Use your team's colors in the decor of your office. This can be done through the use of paint, curtains, throw pillows, or other decorative accents.

Hang sports-themed art: You can find prints or paintings of your favorite sports stars or iconic moments in sports history to hang on your walls.

Use sports-themed desk accessories: Consider using sports-themed desk accessories, such as a football-shaped paperweight or a basketball hoop wastebasket.

Add a sports-themed rug: If you have hardwood or tile floors, consider adding a sports-themed rug. You can find rugs with team logos, sports equipment, or sports-themed patterns.

Display sports-related books: If you're an avid sports fan, you likely have a collection of sports-related books. Display them on your bookshelf or on a coffee table for easy access and decoration.

Install a TV or sports-themed wallpaper: If you want to go all out, consider installing a TV in your office or using sports-themed wallpaper to create a more immersive sports fan experience.
Remember, the key to decorating your office as a sports fan is to have fun with it and incorporate the things that you love about sports.