Game Room Decor
Top 10 Game Room Design Tips!
by Nyden Kovatchev on May 02, 2023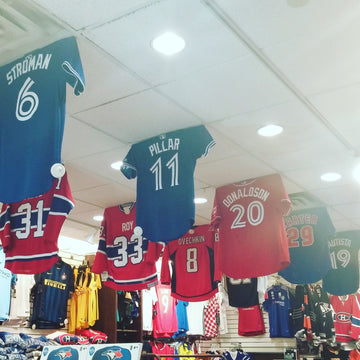 Display shelves: Display your favorite games, consoles, and gaming memorabilia on shelves. You can create a themed display, such as showcasing all your Mario-related games, or you can mix and match for a more eclectic look.

Wall art: Hang posters or prints of your favorite video game characters or scenes. You can also frame game covers or create custom canvas prints of in-game screenshots.

Lighting: Consider adding gaming-inspired lighting, such as a Pac-Man ghost light or a Super Mario question block lamp. You can also use colored LED lights to add ambiance and set the mood.

Bean bag chairs: Create a comfortable seating area with bean bag chairs or gaming chairs. You can even get chairs with built-in speakers for an immersive gaming experience.

Rugs: Add a gaming-themed rug to tie the room together. You can find rugs with classic video game designs or even create a custom rug featuring your favorite game.

Arcade machines: If you have the space and budget, consider adding an arcade machine to your game room. You can find classic arcade games or modern arcade machines that offer a variety of games.

Game-themed accents: Add accents such as game-themed throw pillows or blankets, action figures, or figurines.

Game-inspired wall murals: Consider adding a custom game-inspired mural on a wall or even on the ceiling.

Game storage: Use creative ways to store your gaming accessories such as using wall-mounted racks or even building custom shelving units.

Sport Displays, Jersey Mount, www.thesportdisplays.com: If you have a favorite sports jersey, consider displaying it with the Jersey Mount and hanging it on your wall. This can be a great way to show off your fandom while also adding some texture to your decor. The Jersey Mount can be mounted to any surface type including the ceiling and inside of shadow simply by using 3M command strips. The Jersey Mount also has a Game Day Feature which allows for quick access to your favorite jersey on game day or for fans with big collections who may want to interchange them! The Jersey Mount is easy to install, extremely affordable and looks great when mounted.
Overall, think about incorporating the elements of your favorite games into the decor to create a cohesive theme for your game room.