News
Kobe Bryant History
by Nyden Kovatchev on Jun 27, 2023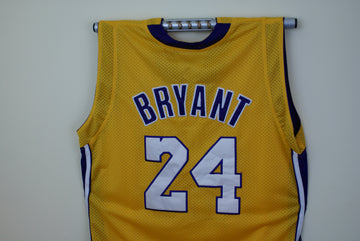 Kobe Bryant was a professional basketball player who is widely regarded as one of the greatest basketball players of all time. He was born on August 23, 1978, in Philadelphia, Pennsylvania, and tragically passed away on January 26, 2020, in a helicopter crash in Calabasas, California.
Here is an overview of Kobe Bryant's basketball career and achievements:
High School: Kobe Bryant gained national attention while playing high school basketball at Lower Merion High School in Pennsylvania. He was highly touted as one of the top high school basketball players in the country and led his team to the state championship.

NBA Career: After graduating from high school in 1996, Kobe decided to forgo college and entered the 1996 NBA Draft. He was selected as the 13th overall pick by the Charlotte Hornets but was subsequently traded to the Los Angeles Lakers, where he played his entire 20-year NBA career.

Los Angeles Lakers: Kobe Bryant quickly made an impact in the NBA, winning the Slam Dunk Contest in his rookie season. He formed a dynamic duo with Shaquille O'Neal, and together they led the Lakers to three consecutive NBA championships from 2000 to 2002. During his career, Kobe won a total of five NBA championships, with additional titles in 2009 and 2010.

Individual Achievements: Bryant was known for his incredible scoring ability and fierce competitiveness. He was an 18-time NBA All-Star and was selected to the All-NBA Team 15 times. Bryant won the NBA Most Valuable Player (MVP) Award in 2008 and was named the NBA Finals MVP twice.

Scoring Records: Kobe Bryant's scoring prowess was remarkable. He had numerous scoring achievements throughout his career, including scoring 81 points in a single game in 2006, the second-highest single-game scoring performance in NBA history. Bryant retired as the fourth-leading scorer in NBA history, with a total of 33,643 points.

International Success: Kobe Bryant represented the United States in international competition. He won gold medals in the Olympics in 2008 and 2012 and a FIBA Americas Championship gold medal in 2007.

Retirement and Post-Basketball Career: Kobe Bryant retired from professional basketball in 2016. Following his retirement, he ventured into various business and creative endeavors. He won an Academy Award in 2018 for his animated short film, "Dear Basketball." Additionally, Bryant was involved in coaching and mentoring young basketball players, and he became an advocate for women's basketball.
Kobe Bryant's impact on the game of basketball and his legacy extend far beyond his on-court achievements. He was an inspiration to many aspiring basketball players and was known for his work ethic, dedication, and commitment to excellence. His tragic passing in 2020 deeply impacted the sports world, and he continues to be remembered as a basketball icon.