News
Most Famous Sport Jerseys of All time
by Nyden Kovatchev on May 25, 2023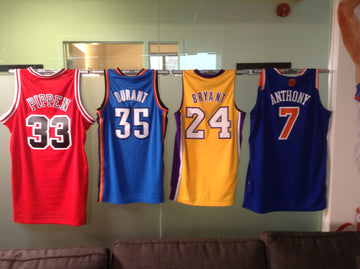 When it comes to the most famous team jerseys of all time, several iconic designs have left a lasting impact on sports and popular culture. While individual opinions may vary, here are some of the most notable and widely recognized team jerseys:
Brazil National Football Team (Soccer): The vibrant yellow jersey with green trim worn by the Brazilian national team is one of the most recognizable and iconic jerseys in sports history. The design has become synonymous with Brazil's footballing prowess.

New York Yankees (Baseball): The pinstriped home jersey of the New York Yankees is an enduring symbol of the team's rich history and success. The classic navy blue pinstripes on a white background have become iconic in the baseball world.

Chicago Bulls (Basketball): The red and black jersey of the Chicago Bulls, particularly the one worn by Michael Jordan during the 1990s, is widely regarded as one of the most iconic basketball jerseys. It represents a golden era for the Bulls and is often associated with Jordan's dominance.

Manchester United (Soccer): The red jersey of Manchester United is recognized worldwide. Known as the "Red Devils," their jerseys have featured the club's crest and iconic sponsors such as Sharp, Vodafone, and Chevrolet over the years.

Los Angeles Lakers (Basketball): The gold and purple jerseys of the Los Angeles Lakers have become synonymous with basketball greatness. Worn by legends like Magic Johnson, Kareem Abdul-Jabbar, and Kobe Bryant, the Lakers' jersey is instantly recognizable.

New Zealand All Blacks (Rugby Union): The all-black jersey of the New Zealand national rugby team is one of the most iconic in the sport. The simple, clean design is a symbol of their dominance and haka-performing prowess.

Dallas Cowboys (American Football): The silver and blue star-adorned jersey of the Dallas Cowboys is deeply ingrained in American football culture. The team's success and star-studded history have made their jersey a widely recognized symbol.

Barcelona (Soccer): The blue and red stripes of Barcelona's home jersey, combined with the iconic crest, have made it one of the most famous football jerseys in the world. Players like Lionel Messi have brought further acclaim to the design.

Boston Celtics (Basketball): The iconic green and white jerseys of the Boston Celtics represent one of the most successful franchises in NBA history. The team's rich tradition and storied rivalries have made their jersey a symbol of basketball excellence.

Ferrari (Formula 1): While not a team jersey in the traditional sense, the red livery of Ferrari in Formula 1 has become instantly recognizable. The passionate fan base and the team's history of success have made the red car synonymous with the sport.
*Did you know that you can display all types, sizes of jerseys using the #1 Best Selling Jersey Display on the market, the JERSEY MOUNT from Sport Displays? Get yours today at www.thesportdisplays.com