News
Showcasing Victory: Elevate Your Space with a Soccer Jersey Display Frame
by Epsilon Access on Aug 21, 2023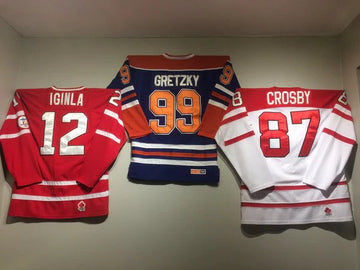 Soccer fans, rejoice! Whether you're a die-hard supporter of a legendary club or a fervent admirer of national teams, there's nothing quite like the thrill of owning an autographed soccer jersey.

These jerseys encapsulate unforgettable moments on the field and symbolize the unity and passion that sports bring to our lives. But how do you take your soccer shrine to the next level? Enter the game-changer: the Jersey Display Frame.
What's a Jersey Display Frame?
Imagine a piece of art that fuses your love for soccer with interior design finesse. A display frame is precisely that - a masterfully crafted canvas for your cherished soccer jerseys. It's not just a frame; it's a dynamic homage to the sport and its players.
Why Settle for Ordinary?
Sure, you could fold your jersey and toss it on a shelf, but where's the glory in that? A soccer jersey display frame from The Sport Displays turns your memorabilia into a statement piece. Don't just hang it; showcase it!
Why The Sport Displays?
Here's where the plot thickens. The Sport Displays isn't just another online store; it's a sanctuary for soccer enthusiasts seeking to immortalize their passion. With a range of customizable options, our frames are designed to perfectly fit your jersey while providing a protective haven from dust, moisture, and accidental spills. No more frantic jersey-cleaning before guests arrive!
Design Your Legacy
These frames are more than just protective shields. They're a collaboration between aesthetics and preservation. Choose from a variety of styles, materials, and colors to match your personal style. Whether you're aiming for a sleek modern look or a vintage vibe, The
Sport Displays
has you covered.
Beyond Beauty
Sure, your jersey is a work of art, but let's not forget its fragility. That's where the preservation aspect of these frames comes into play. The UV-protective acrylic shields your jersey from fading due to sunlight exposure. Plus, the carefully designed ventilation system keeps your prized possession fresh and dry.
A Touch of Personalization
Your jersey has a story to tell. Maybe it's the shirt worn during a dramatic last-minute goal or a testament to your unwavering loyalty. Whatever the tale, The Sport Displays lets you add custom nameplates and captions, ensuring your frame doesn't just tell the story; it shouts it from the wall.
Unveil Your Passion
In a world that constantly demands our attention, having a cherished piece of memorabilia proudly displayed on your wall is a daily reminder of your passion. The
soccer jersey display frame
from The Sport Displays isn't just an accessory; it's a celebration of triumphs, camaraderie, and memories frozen in time.
Whether you're an avid collector or a dedicated fan, this frame transforms your space into a gallery that showcases the spirit of the game. So, why settle for the ordinary when you can frame your legacy in extraordinary style? Visit The Sport Displays today and elevate your soccer haven to a league of its own.