News
Stadium Shops, College Book stores and Team Shops! The Jersey Mount sells everywhere!
by Nyden Kovatchev on Oct 30, 2017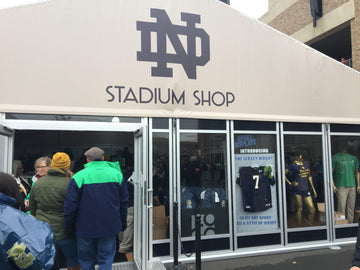 This past weekend, I had the opportunity to go to one of my bucket list US colleges to watch a football game!
This weekend I went to Notre Dame to watch the Fighting Irish take on NC State!  The crowd was electric! The game was amazing! The atmosphere was epic! Everything about college football games is in a word Pure Authentic Fun! 
Sure the weather was cold and the stadium was dry(no alcohol) which was something that I was not used to, but to stand for every 3rd down on both sides to cheer for or against the team and to listen to the marching bands and fighter jets fly by was absolutely amazing. I loved every minute of it and if you have never been to a college football game I strongly suggest you go to one!
Just don't forget to buy your jersey mount from Sport Displays, to hang up your favorite jersey before and after the game!