News
The Sport Displays - Stadium Change Room or VIP Box and Suite Decorative Display option with the Jersey Mount!
by Jamie Ramsden on Jun 12, 2016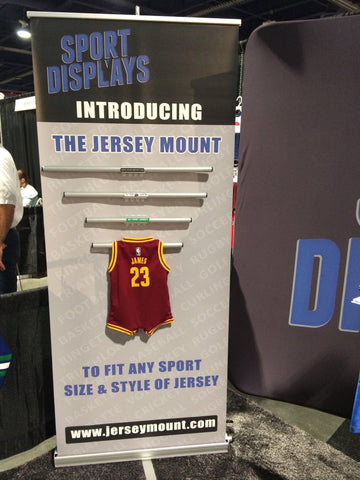 Sport Displays Jersey Mounts are making their mark in the decorative display industry at a booming pace!  The Jersey Mount is by far the easiest, most affordable and professional way to display your team or player merchandise around your stadium, retail stores, hallway kiosks or as a decorative option for all stadium suites or vip boxes. 
The Jersey Mount can come in any color to match your teams needs and can even be customized with company logos, images and much more. 
Need an innovative and professional way to hang locker room jerseys?
Brand locker room Jersey Mounts with player names, sponsors, logos, slogans, quotes or nicknames!!
The Jersey Mount can be mounted to absolutely any surface; wall or ceiling! Install them to the tops of your locker room stalls or the back wall!  Simply use 3M command strips and our Mounts can be installed onto any surface including brick, glass, ceilings, vehicles, cement and much more! 
Need a fun way to decorate your suite or vip boxes?
Brand the Jersey Mount with VIP company logos, slogans, website, names etc and attach it to the wall or ceiling of the box during the game.  Instantly create a fun atmosphere! When the game is over, easily remove the Jersey Mount and give it to your guests or employees as a prize, giveaway or thank you!
For more information, please click on our website at, www.thesportdisplays.com and watch our 1 minute promo video, found on the first page to learn more about the product and how it can work for you!