Wall Decor Ideas
Wall Decor Ideas for Sport Fans!
by Nyden Kovatchev on May 01, 2023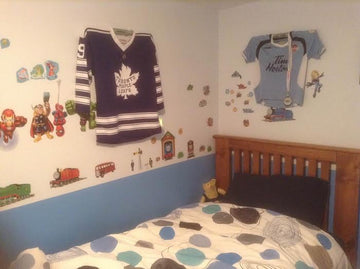 There are many options for wall decor for sports fans! Here are some ideas:
Posters: You can find posters of your favorite sports teams or athletes at many stores or online retailers. Look for posters that feature action shots or inspirational quotes to add some excitement to your walls.

Sport Displays, Jersey Mount, www.thesportdisplays.com: If you have a favorite sports jersey, consider displaying it with the Jersey Mount and hanging it on your wall. This can be a great way to show off your fandom while also adding some texture to your decor. The Jersey Mount can be mounted to any surface type including the ceiling and inside of shadow simply by using 3M command strips. The Jersey Mount also has a Game Day Feature which allows for quick access to your favorite jersey on game day or for fans with big collections who may want to interchange them! The Jersey Mount is easy to install, extremely affordable and looks great when mounted.

Wall decals: Wall decals are adhesive stickers that can be placed directly on your walls. You can find decals with sports team logos, athletes, or even quotes from famous sports figures.

Vintage memorabilia: If you're a fan of older sports teams or athletes, consider decorating your walls with vintage memorabilia. This could include old pennants, programs, or even ticket stubs from games you've attended.

Sports equipment: If you have old sports equipment lying around, consider using it as wall decor. For example, you could hang a basketball hoop on your wall or display a collection of baseball bats.

Wall art: There are many artists who create sports-themed wall art. Look for pieces that use bold colors or abstract designs to add some interest to your walls.
Overall, the key to decorating with sports-themed decor is to keep it fun and lively. Use bold colors, dynamic imagery, and personal touches to create a space that celebrates your love of sports.