News
Best Ways to Display your Children's Jerseys
by Nyden Kovatchev on Jun 06, 2023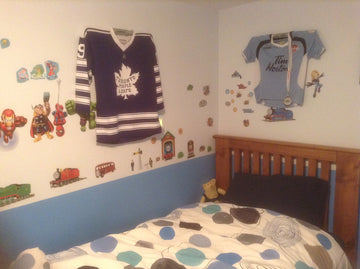 There are several great ways to display your children's jerseys. Here are a few ideas:
Jersey Frames: You can purchase jersey frames designed specifically for displaying sports jerseys. These frames usually have a hinged opening that allows you to easily insert the jersey. They often come with a protective acrylic front to keep the jersey clean and safe from dust or damage. Jersey frames can be hung on the wall or displayed on a shelf or tabletop.
Shadow Boxes: Shadow boxes are another popular option for displaying jerseys. These deep, framed boxes have a glass or acrylic front and can accommodate jerseys along with other memorabilia such as photos, medals, or patches. You can arrange the jersey neatly inside the shadow box and create an attractive display. Jersey Hangers:
Sport Displays Jersey Mounts, www.thesportdisplays.com are a simple and affordable way to display jerseys. These hangers are specifically designed to hold jerseys without causing any damage.They can be mounted to any surface type including the ceiling or inside of shadow boxes and can be installed simply by using 3M Command strips.  The Jersey Mount from Sport Displays has been the #1 Best Selling Jersey Hanger on the Market for over 10 years.
Mannequins or Dress Forms: Using a mannequin or dress form can create an eye-catching display for your child's jersey. You can dress the mannequin or dress form in the jersey and place it in a prominent spot in the room. This method works well if you have a dedicated space for displaying sports memorabilia or if you want to showcase multiple jerseys together.
DIY Display: If you prefer a more creative approach, you can make your own DIY display for the jerseys. For example, you can build a custom shelf with hooks to hang the jerseys, or use a fabric-covered bulletin board to pin and display the jerseys. You can also add other elements like photos, team logos, or player cards to enhance the overall presentation.