News
College Dorm Rooms meet the Jersey Mount!
by Nyden Kovatchev on Oct 13, 2017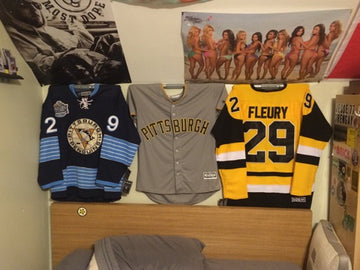 Are you a college student? Have you just moved into your dorm room?  Are you looking for a way to spruce up your walls or ceiling? 
Living in dorm rooms are tough to do these days.  Most rooms are extremely small, they are dull, plain, boring and very institutional like.  Considering you will be imprisoned for a whole year, college room décor is extremely important! 
First things first is you will need to figure out the rules and regulations that you will have to abide by before decorating.  Typically in most dorm rooms in colleges and universities they do not allow screws or nails of any kind to puncture their walls.  Due to this, students are pretty much left with decals, stickers, posters and,,,,, THE JERSEY MOUNT!
That's right! The Jersey Mount can attach to any surface type using 3M command strips! You can attach our mounts to your walls, ceilings, windows, doors and anything else you can think of!  Use the Jersey Mount to hang up jerseys, concert t-shirts, sweaters, jackets, uniforms, ties, scarves, dresses, jewelry, towels, lights and much much more! Check out the Jersey Mount today for all your décor needs!