News
Decorate your children's room with the Jersey Mount
by Nyden Kovatchev on Oct 22, 2017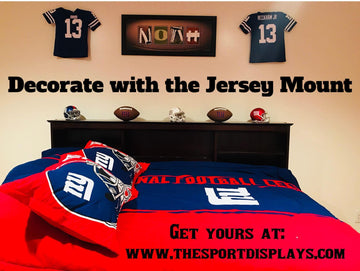 Are you a parent looking for new innovative ways to decorate your children's or toddlers room?  
Are you a proud father who wants to help pick what sports team your child will be cheering for the rest of their life at an early age?
Are you an uncle or aunt who doesn't know what gift to buy a new born baby?
Look no further then the Jersey Mount from Sport Displays! Jersey Mounts are an affordable and easy to way to decorate kids rooms with jersey, t-shirts or other clothes!  The Jersey Mount uses 3M command strips for installation so no screws are necessary!
Check out the Jersey Mount today for all of your children room décor ideas!