News
Jersey Displays are easy as 1, 2 and 3
by Nyden Kovatchev on Apr 12, 2021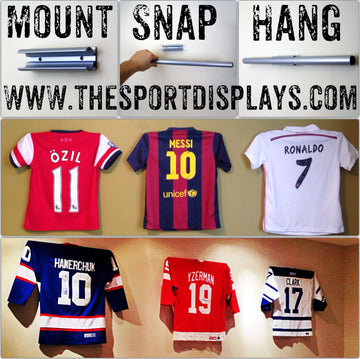 Sport Displays Jersey Mounts have really taken over the jersey frame, jersey shadowbox, jersey display or diy jersey display industry! Figuring out a way to display your collection has never been an easy path.
Many of us have tried the hockey stick route,,, others with coat hangers,,, however Sport Displays have come up with an easy to install, easy to use and an extremely professional way to hang, display or show off your favorite fan apparel.
It really is as easy as 1,2,3.  Simply Mount the clip to the wall, ceiling or inside of your shadow box using the 2 screws provided or 3M command strips.  Use the Jersey rod and slide it through your favorite Jersey and then boom! Snap it back into the Clip to show off your favorite player or team!
Doesn't get easier then this now does it! Check us out today at www.thesportdisplays.com