News
Testimonials from Sport Displays
by Nyden Kovatchev on Oct 05, 2021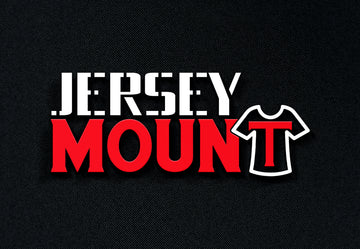 Affordable and Professional
The Jersey Mount Display system is an excellent choice because it is by far the most affordable and professional mounting system currently available on the market. They are available in a number of different sizes and colors, and they can even be customized by sports teams or fans themselves!
"I had customized his one based on his favorite soccer team, FC Barcelona, prior to UCL Quarter Finals. After a few of his friends came over, their hangout was made special as everyone wore their favorite jerseys to show their support."
Furthermore, the Jersey Mount can be attached to any surface without the use of screws thanks to the use of 3M command strips. Each Jersey Mount can be quickly and easily installed using three 3M Command Strips; however, two screws are included with each Jersey Mount for your convenience.
Hence, it is capable of being mounted on virtually any type of wall or ceiling structure. An additional outstanding feature of our product is the one-of-a-kind Snap and Go feature, which allows customers to remove their favorite jerseys from their vehicle quickly and easily on game day.
For Sports Fans
It is an excellent product that will appeal to sports fans of all ages and from a variety of sporting disciplines! The application of this product is extremely flexible. Also, very simple to install, it looks fantastic on walls, ceilings, and the inside of shadow boxes, and it is very affordable. Fan caves, basements, offices, children's rooms, and dorm rooms are just a few of the settings in which this item would be appropriate, among other things. The Jersey Hanger Mount is a huge hit with sports fans and is a must-have accessory!"
Different Features
A feature that makes it particularly appealing is the fact that jersey hanger or hockey jersey hanger is available in three different sizes (18, 22 and 26 inches), and that it can be manufactured in any color of your choice. Simply hang it from a wall or ceiling, or place it in a Jersey shadow box in your fan cave or jersey storage area, and you're finished. Mark recommends the Jersey Mount for these reasons to all jersey collectors and people looking to enhance the aesthetics of their room or gathering hall.
Finally, this accessory is highly sought after for any man cave setting due to the ease with which it can be used and the minimal aesthetics it has. Because we understand that any fan would be proud to show off his or her favorite jersey to the rest of the world, we have developed the most effective method of displaying jerseys available. Please get in touch with us as soon as possible to place your order!