News
Top 10 Ceiling Decor Ideas for Sport Fans
by Nyden Kovatchev on May 15, 2023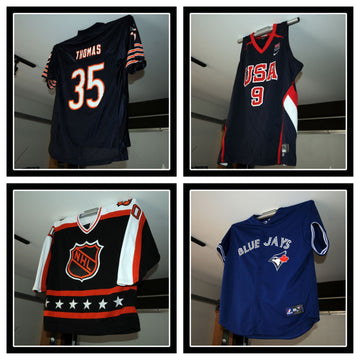 If you're a sports fan looking to add some flair to your ceiling, here are ten ceiling decor ideas that can showcase your love for your favorite sports:
Sport Displays Jersey Mount: The Jersey Mount from Sport Displays, www.thesportdisplays.com is the only Jersey Display product on the market that can be mounted to any surface type and that includes the ceiling! Simply, mount the Jersey Mount to the ceiling using 3M Command strips and you can use it to display anything from jerseys, team banners, flags and all other types of apparel.

Stadium Blueprint: Display a blueprint or schematic of your favorite stadium on the ceiling. This can be a unique and sophisticated way to pay homage to your team's home ground

Hanging Jerseys: Frame and hang your favorite team jerseys from the ceiling. This adds a three-dimensional element to the decor and can create a dynamic visual impact.

Hanging Sports Equipment: Showcase actual sports equipment from the ceiling, such as basketballs, soccer balls, or baseball gloves. This gives a playful and authentic touch to your sports-themed space.

Fiber Optic Stars: Install fiber optic star lights on the ceiling to create a starry night effect. You can arrange the lights to form constellations resembling sports icons or logos.

Stadium Lighting: Install recessed or track lighting on the ceiling that mimics the lighting setup of a stadium. This can create an atmospheric ambiance and enhance the sports theme.

Wall Decals: Apply large wall decals of sports-related images, such as action shots of athletes or iconic moments in sports history, on the ceiling. These decals can make the ceiling feel like an extension of the wall art.

Sports Memorabilia Display: Design a hanging display for your sports memorabilia, such as autographed balls, helmets, or trading cards. This creates a unique and personal ceiling decor that showcases your collection.

Projection Mapping: Use projection mapping technology to project sports-related imagery, such as live game footage or highlights, on the ceiling. This immersive experience brings the excitement of the game into your space.

Sports-themed Chandelier: Install a custom-designed chandelier featuring elements of your favorite sport. For example, a basketball-themed chandelier with miniature hoops and basketballs can add a touch of elegance and playfulness to the ceiling.
Remember, these ideas can be customized to fit your specific sports preferences and personal style. Let your creativity shine and transform your ceiling into a tribute to your favorite sports teams and moments.