News
Top 8 Best Man Caves Of All Time
by Nyden Kovatchev on May 16, 2023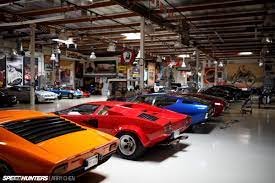 When it comes to the best man caves of all time, there have been some truly impressive and iconic examples throughout history. Here are a few notable man caves that have captured the imagination of many:
Playboy Mansion's Grotto: Located at the Playboy Mansion in Los Angeles, Hugh Hefner's legendary Grotto is the epitome of a luxurious man cave. It featured a pool, waterfall, and a secluded space for parties and relaxation.

Jay Leno's Garage: Jay Leno, the former host of "The Tonight Show," is an avid car collector. His massive garage is a paradise for automobile enthusiasts, housing hundreds of rare and classic cars, motorcycles, and memorabilia.

Fidel Castro's Man Cave: El Nicho, situated in the mountains of Cuba, was Fidel Castro's secret hideaway and man cave. It consisted of a series of interconnected caves that housed a private cinema, a game room, and a bowling alley.

The Batcave: Though fictional, Batman's Batcave has become an iconic symbol of the ultimate man cave. Hidden beneath Wayne Manor, it showcases advanced technology, a vast collection of vehicles, and a crime-fighting lair.

Richard Branson's Necker Island: Richard Branson, the founder of Virgin Group, owns a private island in the Caribbean called Necker Island. The island features a luxurious man cave equipped with a pool table, a bar, and stunning ocean views.

Billiards Room at the Hearst Castle: Built by newspaper magnate William Randolph Hearst, the Hearst Castle in California boasts an opulent billiards room. This extravagant man cave features a custom-made table, intricate woodwork, and lavish decor.

The Ultimate Home Theater: Numerous celebrities and wealthy individuals have invested in incredible home theaters as their personal man caves. These often include state-of-the-art audiovisual systems, plush seating, and themed decorations.

Warren Buffett's Office: Warren Buffett, one of the world's most successful investors, has a modest office in Omaha, Nebraska. Despite its simplicity, it serves as his personal man cave, where he makes his investment decisions and conducts business.
These man caves vary greatly in style and purpose, but they all embody the concept of a dedicated space for personal enjoyment and relaxation.
Just in case you are looking for a way to start your mancave, check out the Jersey Mount from Sport Displays, www.thesportdisplays.com.  The Jersey Mount can be mounted to any surface type including the ceiling and can be used to display anything from jerseys to banners, flags and all other fan apparel.