News
What makes the Jersey Mount the best Jersey Display on the market?
by Nyden Kovatchev on Apr 21, 2023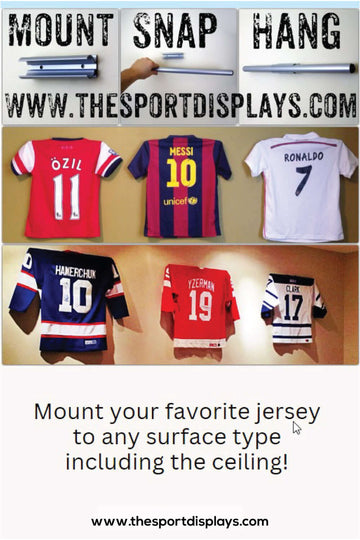 The Jersey Mount is a specialized hanger designed specifically for displaying sports jerseys. It is made from high-quality materials and has a simple design that allows for easy installation and use. Here are some reasons why it is considered a good product:
Protects jerseys: The Jersey Mount is designed to protect jerseys from damage, such as wrinkles or tear. The hanger holds the jersey securely in place without causing any stress on the fabric.

Easy to install: The Jersey Mount comes with all the hardware needed for installation, and the process is straightforward and can be done by anyone.

Versatile: The Jersey Mount is suitable for different types of jerseys, including football, basketball, hockey, and baseball jerseys. It can also be used to display other sports memorabilia, such as hats, scarves, or flags.

Aesthetic appeal: The Jersey Mount provides an attractive way to display jerseys and adds a touch of professionalism to any room. It also makes it easy to showcase your favorite sports team or player.
Overall, the Jersey Mount from Sport Displays is a reliable product that offers a simple and effective solution for hanging jerseys. Its design, ease of use, and versatility make it a popular choice among sports fans and collectors.