News
Jersey Mount+Display Case = Perfection for all Sport Fans
by Nyden Kovatchev on Jun 14, 2017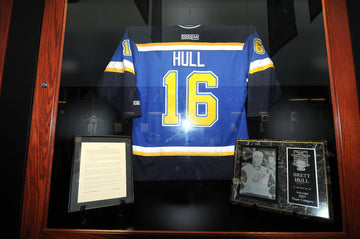 If you are a sport fan like me you know how expensive it could be to mount your favorite game worn or signed jersey inside of a professionally mounted display case.  Display cases can run sport fans upwards of between $300-$800 depending on the type/style and customization of the case.  As a sport fan myself, I had a collection of over 35 jerseys that varied from jerseys I would wear to games, signed jerseys and game worn jerseys.  I realized that there would be no way that I could create a fan cave atmosphere at the cost of a display case.
After putting in some thought, I realized there must be a better way to hang your favorite jersey and apparel.  In 2013 I created the Jersey Mount and have been selling it to sport fans of all ages and sports every since.  With that said, I do still have my prized possessions that even I think should be behind glass and thus I realized that a great way for fans to save a few bucks is to buy a cheaper case (usually on sale at Michaels) and use the Jersey Mount to hang your jersey from either the wall or ceiling of the case!
The Jersey Mount is so versatile that it can be used in so many different ways and it can save you so much money! Check it out today to learn more!