News
One and Done Fundraisers from Sport Displays
by Nyden Kovatchev on May 13, 2022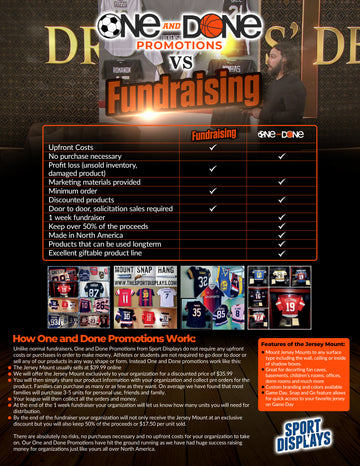 How One and Done Promotions Work:
Unlike normal fundraisers, One and Done Promotions from Sport Displays do not require any upfront costs or purchases in order to make money. Athletes or students are not required to go door to door or sell any of our products in any way, shape or form. Instead One and Done promotions work like this:
- The Jersey Mount usually sells at $39.99 online
- We will offer the Jersey Mount exclusively to your organization for a discounted price of $35.99
- You will then simply share our product information with your organization and collect pre orders for the product. Families can purchase as many or as few as they want. On average we have found that most families will purchase 3-5 units for personal use, friends and family.
- Your league will then collect all the orders and money.
- At the end of the 1 week fundraiser your organization will let us know how many units you will need for distribution.
- By the end of the fundraiser your organization will not only receive the Jersey Mount at an exclusive discount but you will also keep 50% of the proceeds or $17.50 per unit sold.
There are absolutely no risks, no purchases necessary and no upfront costs for your organization to take on. Our One and Done Promotions have hit the ground running as we have had huge success raising money for organizations just like yours all over North America.
If you are an organization and you are looking for a way to raise money that is quick, easy to run, extremely effective and profitable then check out One and Done Promotions from Sport Displays.  We have been incredibly successful raising money for leagues throughout North America with this new concept.