News
Top 10 Hockey Players of All Time (Influential)
by Nyden Kovatchev on Jun 05, 2023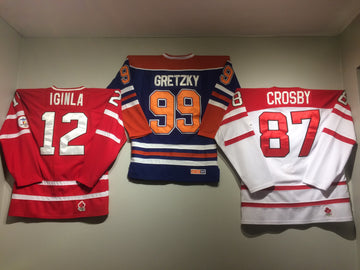 Creating a definitive list of the top 10 hockey players of all time is subjective and can vary depending on personal opinions. However, here's a list of 10 highly regarded players who have had a significant impact on the sport:
Wayne Gretzky: Known as "The Great One," Gretzky is widely considered the greatest hockey player of all time. He holds numerous records and dominated the sport in scoring and playmaking.
Bobby Orr: Orr revolutionized the game as a defenseman and became one of the most dominant players in NHL history. His speed, skill, and offensive abilities were unmatched.
Mario Lemieux: Lemieux was a gifted scorer and playmaker who battled through health issues. He had a remarkable career and is considered one of the most talented players to ever grace the ice.
Gordie Howe: "Mr. Hockey" was a legendary player who excelled in both skill and physicality. Howe's longevity and versatility made him an icon of the game.
Sidney Crosby: Crosby is a modern-day great who has achieved remarkable success. His exceptional skill, leadership, and hockey IQ have solidified his place among the best players of all time.
Maurice Richard: Richard was a pioneer and one of the most electrifying players of his era. He possessed incredible scoring ability and was an integral part of the Montreal Canadiens' dynasty.
Bobby Hull: Hull's blazing speed and powerful shot made him one of the most feared forwards of his time. He was a prolific goal scorer and played a significant role in shaping the game.
Jean Beliveau: Beliveau was a graceful and highly skilled center who won numerous championships with the Montreal Canadiens. He was known for his leadership and sportsmanship.
Jaromir Jagr: Jagr had a storied career and achieved remarkable longevity in the NHL. His combination of skill, size, and hockey IQ made him one of the most productive players in history.
Dominik Hasek: Hasek is widely regarded as the best goaltender ever. His unorthodox style, athleticism, and ability to make unbelievable saves earned him multiple Vezina Trophies.
No matter who you think should be on this list, always know that the Jersey Mount from Sport Displays, www.thesportdisplays.com is the #1 Jersey Display Product on the market and can help with displaying any of your favorite jersey or fan apparel to the wall, ceiling or even inside of shadow boxes!