News
Top 10 Wall Decor Inventions
by Nyden Kovatchev on May 03, 2023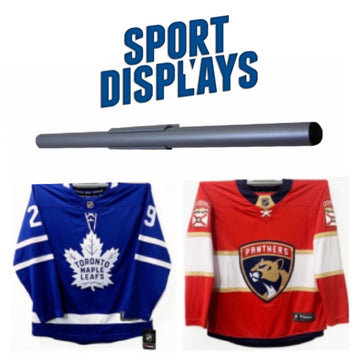 Wallpaper - a decorative paper or vinyl covering that is applied to walls for aesthetic purposes.

Wall murals - large-scale artwork or images that cover an entire wall or section of a wall.

Paintings - hand-painted or printed works of art that can be hung on walls for decorative purposes.

Picture frames - decorative frames that hold photographs, artwork, or other flat objects and can be hung on walls.

Wall sconces - decorative fixtures that are mounted on walls and provide indirect lighting.

Wall decals - self-adhesive vinyl stickers or graphics that can be applied to walls for a decorative effect.

Wall shelves - shelves that are mounted on walls for storage or decorative purposes.

Tapestry - a woven textile artwork that can be hung on walls for decoration.

Wall clocks - decorative clocks that can be hung on walls for functional and aesthetic purposes.

Sport Displays Jersey Mount, www.thesportdisplays.com - The Jersey Mount is a sport fans dream wall decor item that allows fans of all ages and sports to hang or display their favorite jersey or fan apparel including, t-shirts, sweaters, uniforms, jackets, medals and much more to the wall, ceiling or even inside of shadow boxes.  Using the screws provided or 3M Command Strips the Jersey Mount is one of the top ten wall decor inventions of all time!