News
Wall Decor Ideas for Sport Fans
by Nyden Kovatchev on Oct 04, 2023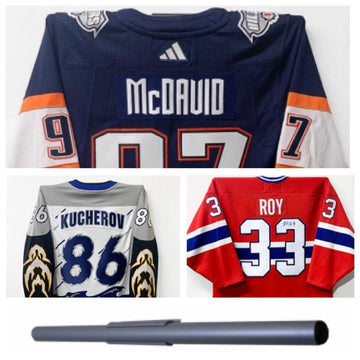 Decorating a sports-themed room or creating a dedicated space for sports fans can be a fun and exciting project. Here are some sport fan wall decor ideas to help you get started:
Sports Memorabilia Display: Showcase your favorite sports memorabilia, such as jerseys, signed posters, or vintage equipment, in shadow boxes or frames. This creates a visually appealing and personal touch to your sports-themed room.

Wall Decals and Murals: Use wall decals or murals of your favorite team's logo, stadium, or players to create a vibrant and immersive sports atmosphere on your walls.

Framed Sports Art: Invest in artwork that celebrates your favorite sport or team. Framed prints of iconic moments, sports legends, or sports-themed abstract art can add sophistication to your decor.

Floating Shelves: Install floating shelves to display sports-related books, trophies, bobbleheads, or other collectibles. Arrange them neatly to create an organized and attractive display.

Jersey Hangers by Sport Displays, www.thesportdisplays.com: Jersey Hangers are a great to hang jerseys of your favorite athletes, whether they are current stars or retired legends. You can choose a uniform theme for a cohesive look or mix and match jerseys from different sports.

Vintage Scoreboards: If you can find vintage scoreboards or signs from your favorite team or sport, they can make unique and eye-catching wall decor pieces.

Sports-Themed Clocks: Find clocks featuring sports themes, such as basketball-shaped clocks or clocks with scoreboard designs. They serve both a functional and decorative purpose.

Custom Wall Art: Create custom wall art using your own photographs from games or events you've attended. Turn these into canvas prints or framed photos to make your sports experiences a focal point.

Sports Pennants and Flags: Hang sports pennants, flags, or banners representing your favorite teams. You can arrange them in a grid or diagonal pattern for a dynamic look.

DIY Art Projects: Get creative and make your own sports-themed wall art or crafts. This could include painting canvases with team colors and logos or creating a collage of sports magazine clippings.

Repurposed Sporting Goods: Transform old sports equipment into unique wall decor. For example, turn vintage hockey sticks into a coat rack or use baseball bats as wall hooks.

Chalkboard or Whiteboard: Incorporate a chalkboard or whiteboard into your sports decor. You can use it to keep track of scores, jot down sports-related notes, or draw up game plans.

Sports Quotes: Display motivational or iconic sports quotes on your walls using decals, stencils, or framed typography art.

Floating Sports Balls: Arrange basketballs, soccer balls, or footballs on wall-mounted shelves or brackets for a sporty and playful vibe.

Stadium Seat Frames: If you have access to old stadium seats or replicas, consider framing and hanging them as a unique and nostalgic wall decor piece.
Remember to balance your decor with your personal style and preferences. Incorporate elements that reflect your love for the sport while also creating a visually appealing and cohesive design for your space.