News
Why Displaying your jersey is so important
by Nyden Kovatchev on Apr 26, 2023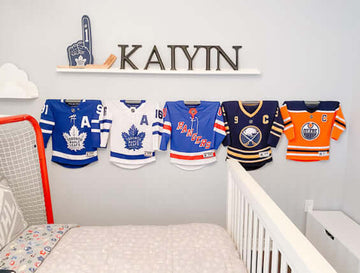 Displaying a jersey can be important for a few reasons:
Sentimental Value: For many sports fans, jerseys hold sentimental value. They represent a connection to a favorite player or team, and displaying the jersey can serve as a reminder of happy memories associated with watching games or attending events.

Memorabilia: Jerseys can be considered memorabilia, especially if they are signed or worn by a famous athlete. Collectors may display jerseys as a way to show off their collection or to preserve the value of the item.

Team Spirit: Displaying a jersey can also be a way to show support for a favorite team. This can be particularly important during big games or events, as it can help create a sense of camaraderie and community among fans.
Overall, displaying a jersey can be a way to show pride, share memories, and connect with others who share a love for sports and the associated teams and players.
That being said, don't forget that the Jersey Mount from Sport Displays, www.thesportdisplays.com is the best selling Jersey Hanger on the market today!
- Easy to install! Use 3M Command strips to mount it to any surface type including the ceiling or inside of shadowboxes
- Custom branding and colors are available! Just ask us!
- Game Day feature allows for quick access to your favorite jersey on game day!
- Can be used to display anything from jerseys, fan apparel, jackets, uniforms, kids medals, banners, flags and much more!
- Affordable! Easy to install and Professional!